Sarita Digumarti - India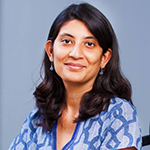 Co-founder of Jigsaw Academy
Co-founded Jigsaw Academy the online school of analytics.
Sarita is a co-founder of Jigsaw Academy, the online school of analytics. Prior to founding Jigsaw Academy, Sarita worked for over 15 years in analytics and consulting roles in both the US and in India. She has diverse domain experience including CPG/Retail, Financial Services, and Pharmaceuticals. Sarita has an MBA from TAPMI, Manipal, and an MA in quantitative economics from Tufts University, Boston.
In 2013, Sarita was awarded the Global Achiever's Award for Education Leadership 2013 in recognition of her achievements in the field of analytics education and training.