The Fotokite was born at ETH Zurich's Flying Machine Arena, one of the world's most advanced research lab in aerial robotics. Frustrated by overly complicated existing systems, the Fotokite team set out to build something more robust, and eventually arrived at using a taut tether to sidestep fundamental drone limitations.
Fotokite was born with one mission: making aerial photography accessible to everyone. Specifically, aspiring to solve fundamental drone issues: safety, need piloting skills, lack accountability, complex regulations and limited flight time.
Intuitive Control: The tether provides a safe, intuitive way to fly. The visible, load-bearing physical link allows clear visual accountability for bystanders and property owners.

Usability: Delivered in compact, carry-on cases, both the Fotokite Phi and the Fotokite Pro are built for immediate operational use. They can be flown by a novice after only 5min of training.

Safety: Thanks to the physical tether, Fotokite is more an intelligent kite than a drone. It is welcomed by safety experts as a safe, more reliable way to access aerial perspectives.

Unlimited Flight: A specialty of the Fotokite Pro: the tether is used to supply power from the ground, allowing the user to fly for hours.

Fotokite will be represented by: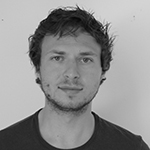 Adam Varkalis
Adam is the designer of the smart leash of Fotokite's latest quadcopter & aerial camera, allowing anyone to film themselves from above effortlessly. He is a mastermind in industrial design, manufacturing, aerospace engineering and product design.