Daniel Schatzmayr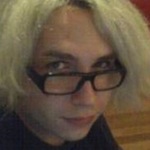 Daniel Schatzmayr is a passionate software developer from Austria working for a Games Company in Vienna.
His interest lies within hacking robots and robotic technologies. Daniel started programming at the age of seven on a C64. Since then he is fascinated by computers, software, electronics and the possibilities coming with these technologies.
As a member of the Viennese hackerspace METALAB Daniel approves the basic idea of technology-based creativity in this social space and benefits from and contributes to the open source concepts of this group.
Daniel recently crafted a Spiderbot (Hexapod), a spider-like six legged robot. The constructions plans are published on Thingiverse so you can download and build your own Spiderbot. He programmed an Inverse Kinematic Engine running on an Arduino Mega microcontroller for calculating movement and behavior of the Spiderbot.
Daniel has been invited at Campus Party Europe 2010, an event for technology, creativity and digital culture and his Spiderbot has been exhibited at the Ars Electronica 2010, Linz.
He is working on different robot projects and is currently developing a Cocktail robot for Roboexotica in Vienna.
He will talk about the repurposing of robotic technologies and robot hacking.
Links:
Metalab Vienna. Hackerspace: http://metalab.at/
Thingiverse: http://www.thingiverse.com/thing:1603
Roboexotica. Festival for Cocktail Robotic: http://www.roboexotica.org/
Ars Electronica Festival: http://www.aec.at/festival_about_en.php