Lift16 - Event Report
For the 11th edition of the Lift Conference in Geneva, Lift16 gathered more than 1,000 participants coming from 35 countries around the world. Spread over three days of workshops, masterclasses, interactive exhibitions, startup pitches and networking in social events, it explored the latest technology trends such as the blockchain, anti-disciplinarity or sustainable ICT.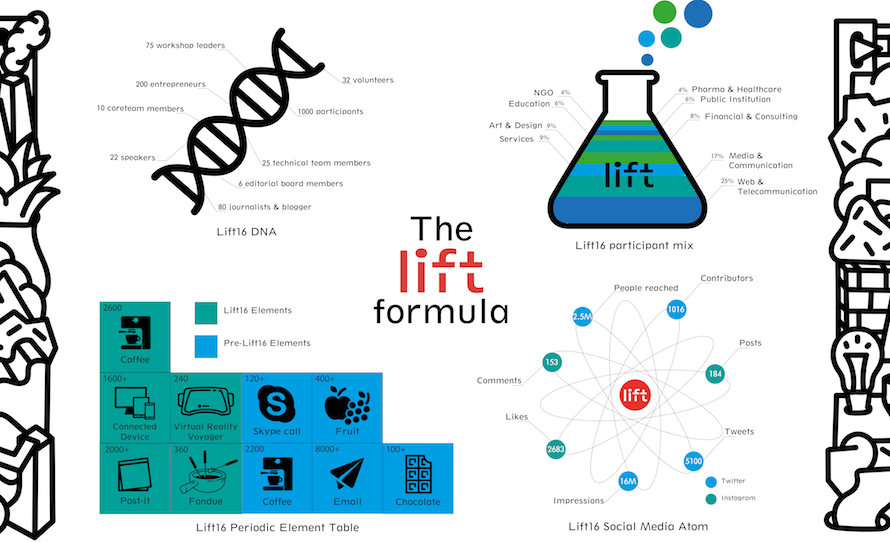 Themes explored
Blockchain Technology Beyond Bitcoin
In the opening session moderated by Clément Épier, the 3 speakers Joseph Lubin, Stephan Tual and Primavera De Filippi gave us an overview of what services powered by the blockchain are already in place in multiple industries as well as real life examples of autonomous IoT devices and what the future might hold at the intersection with the arts.
Read more and watch all videos, including an 3-min summary of what the blockchain is and why it matters.

The Wild Promises of the Digital Customer Experience
This second session kicked off the afternoon of the first day with the digital star Brian Solis, letting us into how brands use the digital world to create amazing experiences for their customers. Kristin Heinonen then took us on a journey to Sweden and how the country took advantage of the technology revolution of the 1990s. This session, moderated by Steve Ritchey, was closed by two brilliant young entrepreneurs: Nadine Frehner from ShoeSize.Me and Atreyam Sharma, a 14-year-old coder.
Read more and watch all videos.

Enter the Anti-Disciplinary Space
To close this first day of talks, two speakers from the USA - Sarah Brin and James Patten - and two from Switzerland - Subodh Patil and Caecilia Charbonnier - led by Sophie Lamparter, explored what it means to be creative and push the boundaries of disciplines. What skills do inventors have? How do you create and flourish in a space that never existed before?
Read more and watch all videos, including an exclusive interview with Subodh Patil about ripple waves.

From Digital Transition to Ecological Resilience
This first session of the Friday moderated by Daniel Kaplan asked the important questions of how technology impacts our ecosystems and if/under what conditions it may be beneficial to their durability. Lorenz Hilty started off by putting the canvas in place to understand the relationship between technology and ecology, where Laur Fisher and Dennis Slieker showed how it was possible to make it happen. The session was closed by David Li who demonstrated how the maker movement in Shenzhen is changing the face of e-waste.
Read more and watch all videos.

Artificial Intelligence, Technology without Alternative?
A recurring topic at Lift, this session led by Hannes Gassert gave us a realistic update on what can and what cannot be done by our friends the algorithms, starting off with Alex Lebrun from Facebook and Henri Bergius from TheGrid. Min Li Marti put the topic in perspective by asking questions about its political and social implications. The session was closed by Silviu Andrica, a talented software engineer who integrated AI seamlessly in his networking app.
Read more and watch all videos.

Making Sense of Technology
To close off this 11th edition, this last session moderated by Nicolas Nova took a step back and asked us to reflect on our relationship with technology. Tobias Revell, Natalie Kane and Joël Vacheron showed us examples from the design and digital worlds, challenging the belief that technology is benevolent. When machines come back to haunt us, who will exorcise them?
Read more and watch all videos.

New features
Lift on Site
While the CICG has become somewhat of our home in the past ten years, we thought we could venture outside of its walls and use the city of Geneva and its landmarks as our practice field on the Wednesday afternoon for the Lift on Site. These workshops, hosted directly where their topics are being researched, built upon and brought to market, have allowed participants to discover these pockets of innovation while immersing themselves in the right environment for the tasks at hand.
Lift Prototyping Lab
Running in parallel to the Lift conference, the Lift Prototyping Lab welcomed 80 people from the private sector and the academia, split into 10 teams, to work on challenges they are facing in their businesses.
Supervised by a delegation from Codesign-it led by Greg Bernarda and with the help of speakers and workshop leaders from Lift16, participants prototyped several tangible iterations of their solutions, which they were able to market-test on site with fellow lifters. Alex Osterwalder, lead author of Business Model Generation, joined them twice via a mobile robot to challenge their ideas and support them in the refinement process.
MassChallenge Startup Summit
Continuing on the Lift tradition of promoting the startup ecosystem, MassChallenge Switzerland and Lift partnered up in 2016 to bring you the MassChallenge Startup Summit and Launch. Hosted on Wednesday, February 10, it showcased on stage 7 of the best Swiss startups and 9 of the MassChallenge alumni coming from all around world.
The day started with startup pitches in front of a jury and was followed by an afternoon of investor meetings. The evening featured several keynote speeches by speakers such as John Harthorne, CEO of MassChallenge, or Suzan G. LeVine - U.S Ambassador to Switzerland and Liechtenstein, as well as the startup pitches, and ended with a networking cocktail, allowing the 500+ attendees to connect in a relaxed atmosphere.

Workshops and Masterclasses
To dig deeper into the subject explored on the main stage and expand our horizons towards new topics, more than 60 workshop and masterclass leaders shared their knowledge and insights with the Lift community on Thursday and Friday.
From the use of Maker culture to the creativity of algorithms, making music with bacteria or the use of shapes to communicate emotions; from business to policymaking, interactive design to code, improvisation to getting inspired by nature's technologies, this year's workshops and masterclasses opened up new pathways to explore beyond and after the conference.
See all workshops and masterclasses in details.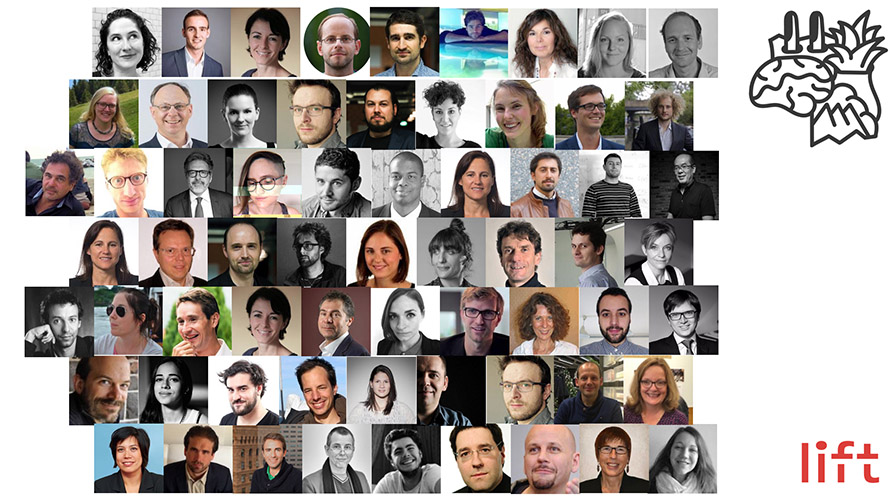 Social Activities
Fondue night
Now a tradition for many years, the Fondue Night was the perfect opportunity to connect with fellow lifters in a relaxed atmosphere and try out one of the Swiss specialties. Melted cheese, white wine, and big biergarten-style tables led to a fun evening of exchange, both cultural and intellectual.
Closing party
To finish Lift16 with a bang, we all gathered downtown for some music, dancing and a last chance to exchange on the ideas brought forward during the conference. We even got some of our participants to play a couple of their favorite tracks for a fiery DJ set!
Nowy Connect
Building on the topic of artificial intelligence, Lift16's official networking app is an ongoing project based out of EPFL using IBM Watson and LinkedIn to tell you effortlessly who around you might be of interest. Read more about Nowy Connect on this dedicated article.

Lift Experience
Like each year, it was important for us to show interactive projects that participants could engage with to discover firsthand what technology can mean. Here are a couple of highlights of these amazing, innovative, and sometimes surprising projects:
Artanim
Coming straight back from the Sundance Festival, Caecilia Charbonnier and Sylvain Chagué presented their latest interactive virtual reality and motion capture project: Immersive Explorers, taking 200 lucky lifters on a journey into one of the most immersive universes available today!
Read more about Artanim in our dedicated blogpost.
HEAD - Genève, MA Media Design
Building on a long-term partnership with Lift Conference, HEAD – Genève exhibited three 2015 graduation projects and two ongoing student works from MA Media Design at Lift16. These projects question crucial aspects of our lives such as the food we eat, the water we have access to or the data we exchange, and their relationships with technology. They also animated a workshop on Friday morning, exploring gamification in a political context.
Want to know more? Read the project descriptions on our dedicated blogpost.

CineGlobe
Remember the cardboard version of Minima Cinema from Lift15, outcome of CineGlobe, the international festival of films inspired by science and technology that takes place at CERN in collaboration with HEAD and Festival Tous Ecrans? Well, not only did they upgrade this great concept to include the use of Oculus Rifts, created a version specially dedicated to kids but also came up with amazing virtual reality projects during their latest edition of the hackathon. They also animated a workshop on Friday morning, during which winners from their last hackathon shared their though-process and explained their VR experiences more in-depth.
More details about their projects on our dedicated blogpost.

Knowledge Plaza
For the first time last year, our partners from Knowledge Plaza created a participative experience at Lift, building with you the future of knowledge sharing. For Lift16, they were back with a more technological setup and as much interaction! Their great LED installation, bringing to life their brand new model the Double X, allowed participants to share with the community what matters to them when it comes to collaboration and see it come to life through an artistic interpretation. They also animated a workshop on Friday afternoon, during which participants went deeper into the concepts developped with the entire community throughout the 3 days of Lift.
Read more about it on their website.

Startups at Lift16
On top of the MassChallenge Startup Summit, more than 200 startups and entrepreneurs joined us for Lift16, be it through a booth displaying their products and services on the 1st floor, on stage pitching their companies, or by participating in the program through workshops and masterclasses. Discover below a selection of these young and talented innovators, whom you might have met during Lift16.
See a larger selection of the startups present at Lift16 on our website.
Press clippings
Each year, Lift welcomes both local and international journalists who come to get the realest on technology trends and interview speakers and project leaders. Find below excerpts from the best pieces talking about Lift16:

Conclusion
In 2016, we decided to bring back the mainstage sessions while adding some new content, such as the Lift on Site or the Lift Prototyping Lab, and keeping the all times favorites Lift Experience exhibition and interactive workshops and masterclasses.
We hope you have enjoyed yourself and gained some interesting insights during Lift16! Thank you once again for your great energy and open-mindedness. Don't hesitate to give us your feedback by shooting us an email, we always love to hear from you.
Interested to know what Lift is planning for the rest of the year and how you can participate? Subscribe to our newsletter and be the first to know!
Useful links