Seoul Urban Entrepreneurs Workshop
Our first Urban Entrepreneurs ideation workshop took place in Seoul on November 12, 2016!
Urban Entrepreneurs, Smarten your city! from Asiance.
The Urban Entrepreneurs journey just started in Seoul
Our first Urban Entrepreneurs ideation workshop took place at the Google Campus Seoul, South Korea, in collaboration with our great partners Asiance, G3 Partners, University of Geneva and Think Services. It was a delight to be back in Korea after our Lift Asia endeavours from 2007 to 2009.
The ideation workshop gathered 50+ participants divided into 7 teams to co-create projects about environment, mobility and energy. We had a great mix of people, among them Koreans and expatriates that developed ideas around the following topics:
Cycling to power the city
Automated vegetables farming
Cleaning air through each buildings
Cleaning pet robots
Using rivers in cities for transportation
Camping backpack to make a home anywhere
Bringing the virtual economy to unemployed people
The teams were surrounded by our workshop leaders and experts :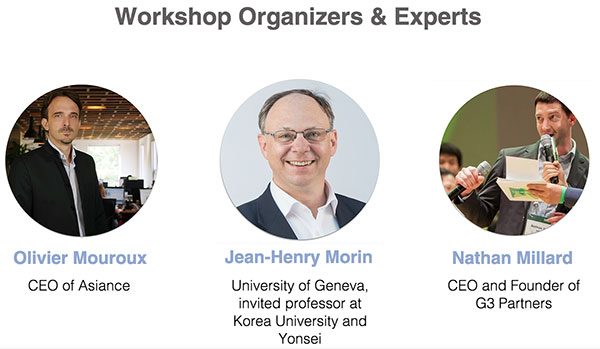 The experts played a great role in advising and facilitating the team work. They were joined by Nathan Millard (CEO of G3 Partners), who gave an inspiring talk about "Turning problems into unicorns". Before ending the day, the teams pitched their ideas on stage receiving valuable feedbacks to help them fine tune their projects before final submission. Christian Schneider, Head of the Science and Technology Office Seoul, ended the day with a speech on innovation in Switzerland before inviting the participant to enjoy a well deserved cocktail full of Swiss delights!
Following the ideation workshop, the teams have two weeks to submit their proposals on the Urban Entrepreneurs platform. Our panel of experts will select the best project based on the following criteria:
Impact
Feasibility
Viability
Thanks a lot to our amazing partners for enabling us to come back in Korea and especially Jean-Henry Morin, Olivier Mouroux and Nathan Millard! We can't wait to receive the proposals and to welcome the Korean team at the Lift:Lab in Geneva!

About Urban Entrepreneurs
Urban Entrepreneurs is designed to create an urban transversal vision through a series of events bringing together entrepreneurs, designers, developers, academics and corporates to explore new solutions to address these urban challenges. The mission is to foster new ideas in order to co-create, prototype and produce solutions for a better urban future.
Urban Entrepreneurs focuses on three major themes
Mobility & Transportation
Energy & Environment
Food & Agriculture
Ideation workshops are hosted in key cities in Asia (Bangalore, New Delhi, Seoul, Shanghai) and Switzerland to support the emergence of new ideas. A jury panel will select the most impactful and viable ideas, and invite the teams to fly to Geneva to take their idea to the next level at the Lift:Lab 2017.
More on Urban Entrepreneurs
News section