Artanim, taking Virtual Reality to a whole new level
Want to discover a one-of-a-kind virtual reality experience? Check out Immersive Explorers by Artanim at Lift16 and teleport yourself into the most realistic spaceship.
Artanim is a non-profit foundation dedicated to the promotion and development of motion capture. This technology allows recording the movements of a real actor in order to apply them to a virtual character. Artanim Interactive is a spin-off of the foundation that creates events, live shows and interactive installations in the field of transmedia. It can be used in numerous projects and industries, especially cinema or gaming but also culture and science on a market that is estimated to reach 56 million users by 2018.
Artanim was founded in 2011 by three motion capture specialists: Clementine Lo, Sylvain Chagué and Caecilia Charbonnier who will be talking at #Lift16 during "Enter the Anti-Disciplinary Space" session on the main stage. Artanim will also showcase their interactive virtual reality and motion capture project Immersive Explorers as part of the Lift16 Exhibition space.
Caecilia's work focuses on the interdisciplinary use of motion capture for applications ranging from 3D animation, virtual reality, live performances to movement science, orthopedics, and sports medicine. The results of her research have been published in more than fifty international journals and conferences.
Artanim has also been selected for the MassChallenge Startup Summit where they will be pitching on Wednesday, Feb 10. Another great occasion to see them on stage and talk about their recent achievements.
Don't miss them!

Sundance Festival : Immersive Explorers
Artanim's work on virtual reality was selected as finalist of the Immersive Realities (VR/AR) contest at SIGGRAPH 2015 as well as Sundance Festival New Frontier in 2016.
"It's basically a full body VR immersion system," says Sylvain Chagué, co-founder and technology director of Artanim. "It's a two-player experience. You are completely immersed in the virtual world. You can see your own body. You can see the other one. You can collaborate together, pass objects from one another and things like that."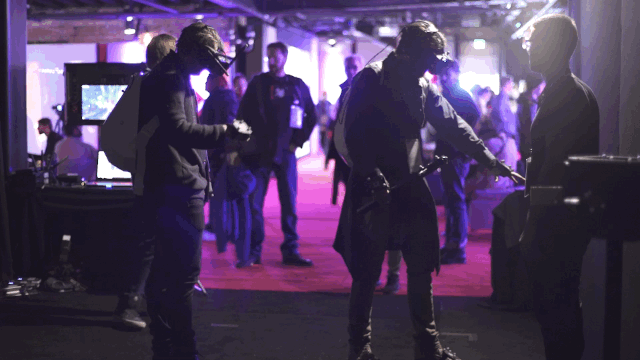 Custom room-scale tracking solution
Artanim has built their custom solution for room-scale tracking using infrared cameras throughout the room. They can track the player's head, hands, feet and objects in the room. The technology enables interactions between two players and items like a torch or a crystal. Finally, a light backpack equipped with a computer is in charge of processing and sending all the data to the Oculus Rift so you won't trip on wires.
"The plan is to have almost 100 or 200 square meters (approximately 1,000 or 2,000-plus square feet) so that you have really full spaces to play with," says Caecilia about their ambition for the future.
Try this amazing experience at Lift16! Learn more about the conference here.