Laur Fisher - Speaker in the Spotlight
Meet Laur Fisher, a research scientist at MIT and the project manager of Climate CoLab, a collaborative platform to work on solutions about climate change. She will be speaking at Lift16 in the main stage session "From Digital Transition to Ecological Resilience" on Friday, Feb 12, at 11:15.
Laur's Background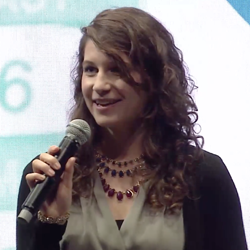 Laur has worked with public, private and non-governmental organizations in Sweden, New Zealand, Canada and the US, and has experience in a wide range of fields, including carbon management, organizational recycling, waste management, renewable energy, green buildings and education.
She self-designed her Bachelor's degree entitled "Engaging Sustainability as an Innovative Process," from Tufts University near Boston, MA, USA. She then collaborated with The Natural Step and Sustainable Sweden eco-municipality tours. She was also active in Toronto where she managed and expanded regional professional education programs for the Canada Green Building Council.

MIT - Climate CoLab
Climate CoLab is a collaborative platform that uses the collective intelligence of thousands of people from all around the world to address global climate change. Inspired by systems like Wikipedia and Linux, the MIT Center for Collective Intelligence has developed this crowdsourcing platform. Citizens can work along with experts and help each other to create, analyze and select detailed proposals and solutions about climate change.
It now has more than 50'000 registered members including 200 experts on climate change and related topics who serve as Advisors, Judges, and Fellows. Membership has tripled each year and the community has sent as much as 1'500 proposals so far.
Online contests are organized in order for projects to be pursued and commented on by the participants and experts from all around the world. After rounds of selections, revisions, winners are granted a price to continue and develop their project.

The last three years winning projects include:
Climate Colab explained in details by Laur:
Meet Laur at Lift16 during the main stage session "From Digital Transition to Ecological Resilience" on Friday, Feb 12, at 11:15.