Call for Workshops now open! Submit your ideas here
At Lift, we always keep a part of the program open to our community. We believe your knowledge and skills deserve to be shared! The best part of leading a workshop at a Lift conference is the ability to work and interact directly with our top-notch participants, working on a subject of YOUR CHOICE.
Submit your workshop/masterclass proposals! You have until October 31 to send us your ideas (note: the deadline has been officially extended from October 18 to 31)
Our editorial board will review them and let you know if you have been selected in the coming weeks.
You should note that workshops by the community are done on a volunteer basis, which means we unfortunately cannot cover your travel expenses. Though, we will provide you with all the regular workshop equipment, i.e. beamer, post-it notes, flip-charts, etc.
To give you some ideas, have a look at the topics we're working on this year:
Anti-disciplinarity and the people who innovate beyond the margins
Digital transition and ecological resilience
Artificial intelligence in 2016 and further
Technology as magic, and making sense of it
Wearables at work, the monitoring of human resources
The reign of hardware and the rise of makers in Asia
Synthetic biology and the research beyond nature
Top-down designed vs. organically constructed innovation clusters
Full-stack apps and other disrupters of FinTech
But don't let them limit your imagination! Anything captivating and related to technology could be of interest for Lift16. Think interactive, knowledge-sharing and trail-blazing.

We look forward to reading your creative and innovative ideas! Don't forget to send them until October 31 (note: the deadline has been officially extended form October 18 to 31).

Workshop Highlights
Each year, the workshop leaders host innovative debates that change our way of thinking and creating.
Since 2006, fantastic concepts and prototypes like Ville Vivante have emerged from our workshop program and we even know of a few start-ups that were born out of interactions between Lifters. Connecting innovators worldwide also happens at Lift16 and you can be part of it!
Among the many workshops we had the pleasure of welcoming, one particularly captivated the minds of our participants: the very interactive Harming and protecting robots by Kate Darling. During this experiment, people took care of a robot dinosaur, taught it tricks and got attached to it before having to torture it at the end of the session.
Watch the experiment here!


On a different note, the New York times R&D Lab hosted a workshop exploring how algorithmic systems impact our behaviors and how to manipulate data. Algorithms are everywhere, collecting and using our data. During this workshop, participants thought of ways to change behaviors in order to have a positive or negative influence on the data and the way the algorithm evolved accordingly. How do these new behaviors change relationships amongst individuals, groups, and institutions?
Read the Storify about the workshop and discover the reactions of the participants.



Last year at Lift15, we ran a two-hour workshop with José Achache from the European Space Agency and Nicolas Nova. The idea was to discuss emerging technologies (geopositioning, telecommunications, image capture from satellite) developed by ESA and look at the near future worlds in which they exist: what kind of experiences would come to pass if the world was to be filled with such technologies? What kind of services may appear? How would they be sold, to whom? What kind of objects may be designed for everyday use?

Here is the result of the workshop: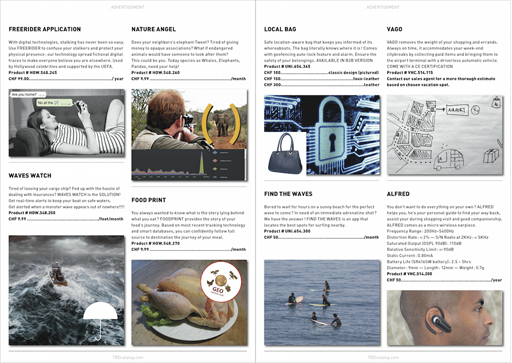 Want to participate and organize a workshop or masterclass?
Click here to submit your own workshop