Past Lift Speakers Back for 10th Anniversary
For Lift15 - which will be the 10th edition of Lift in Geneva - we decided to invite back selected past Lift speakers, who had a big impact and triggered discussions that lasted long beyond the actual event. We will ask them to do an update on their speech or just tell us what they now think is intriguing and promising about today and the future. We hereby kick-off this anniversary initiative by presenting you a pick of the first three speakers to be back at Lift15.
(Also, please let us know your favorite past Lift speakers that you would like us to invite! (..and yes, Kevin Slavin and Vint Cerf are definitely already on the list ;)
So here we go: meet the first three speakers that will be back at Lift15, to intrigue and entertain you:
Russell Davies, co-founder of the newspaper club, partner at RIG London, columnist at Wired UK and now creative director at UK's Government Digital Service. Russell gave a highly memorable presentation (or should we say "performance" ;) at Lift10 on "printing the internet out", facilitated by the legendary "red button".
Etienne Mineur, CEO and creative director of Les Editions Volumniques, which received "Le Grand Prix du Jury" by the Festival "Futur en Seine" in Paris. After his presentation at Lift11 the one and only Robert Scoble called Etienne the "inventor of cool". At Lift15 Etienne will be back to give a masterclass sharing updates on his projects, games and toys, focusing on the relationship between the tangible and digital.
Kate Darling, Research Specialist at MIT Media Lab, fellow at the Harvard Berkman Center for Internet & Society and the Yale Information Society Project will be back! Her Lift13 workshop "Harming and Protecting Robots: Can we, should we?", she co-organized with our Hannes Gassert stirred up quite some discussion and was widely covered by media outlets all over the world, from the BBC to the Boston Magazine or Canada's CBC Radio. At Lift15 Kate will give us an update on her latest thought-provoking projects, which will probably touch on the near-term societal impact of robotic technology or new copyright imperatives. Or both!
Join us at Lift15 to explore what the future can do for you. For those of you who got one of these super early bird ticket codes - hurry up, get your ticket now - the codes are valid only until July 16!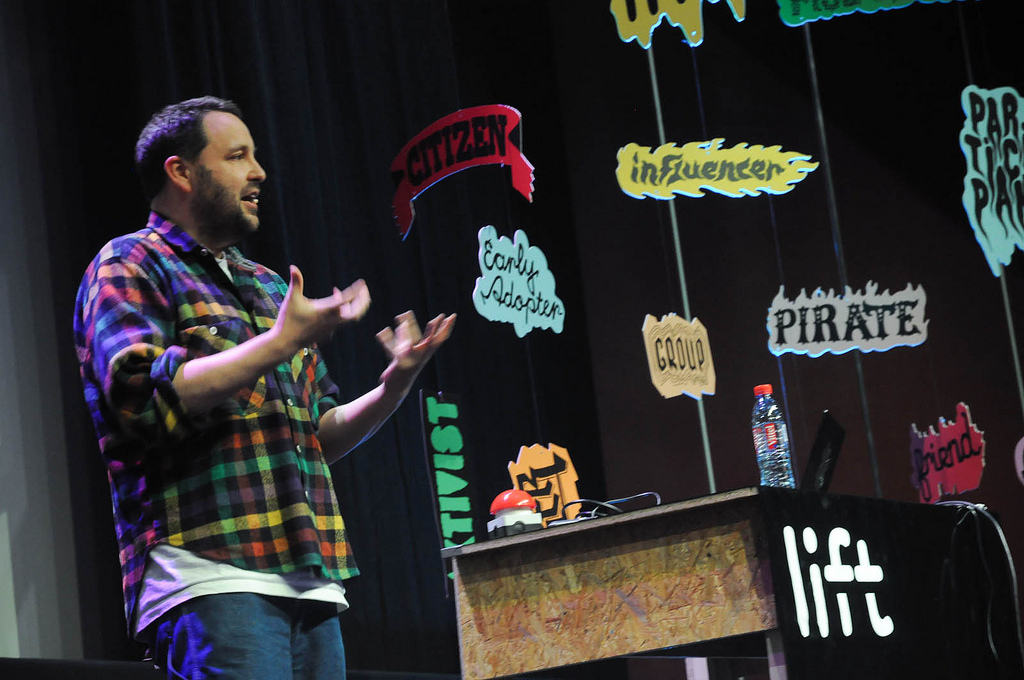 In the picture: Russell Davies on stage at Lift11.