Lift China showcases projects from HEAD Geneva
In order to kick off this event in style, let us share with you some shiny representatives of the emerging digital creative scene in Switzerland and China that will be exhibited at Lift China! We are pleased to bring along to Shanghai these young talents who have already won international awards for their work.
All Swiss projects have been created in the Masters program in Media Design at HEAD Geneva, which has been a long-time partner of Lift's. These games, narratives and applications use the interactive potential of mobile computing and augmented reality interface.
Works:
China:
Double Life by Yan Zhou
Traces by Yi Liu
City Slang Collection by Guanxu Chen, Jixing Chen, Zekai Zheng
Aftertaste by Yiqing Guo
Switzerland:
Binary Land «Hello World!!!» by Transmïi (Baptiste Milési) - Excellence award 2012 from Fondation Hans Wilsdorf
OKO by Nadezda Suvorova - Swisscom Best iOS App 2012 award
IDNA by Apelab (Sylvain Joly, Emilie Tappolet, Maria Beltràn) - Best in Play award, GDC 2014
Magnetics by Fabien Duperrex
Foxx Keedz by Yulia Garcia-Skrebneva
Once Upon a Tale by Benjamin Ben Kemoun with Praiya Chinagarn, Andrea Rovescalli and Guillaume Vautier
Onirigami by Marion Bareil and Camille Attard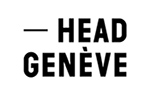 Located in the heart of the city, HEAD Genève is the most important art and design training institution in Western Switzerland. The major in Media Design is based on the creative potential of new technologies. Its aim is to train designers to imagine and develop innovative projects, both in terms of design and usage, in fields such as games, network communication, electronic publishing and mobile media.
Chinese works:
ZHOU Yan
Double Life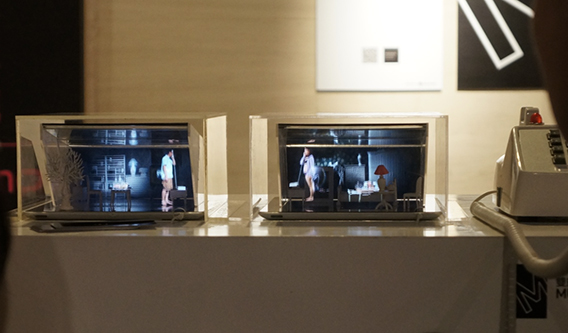 Double Life is an interactive media installation that uses 2 iPad's as stages for a 3D mini theatre show using the technique of naked eye stereoscopic projection. The audience uses phone to trigger the connection of the 2 isolated personae on each iPad stage, making them pick up their phone in their separate room and start to communicate, but none of them nor the audience can hear each other clearly. The artist uses the work to reflect the double life that each urbanite plays in public and private domain.
ZHOU Yan (b. 1979) is a digital media artist and SFX designer. He graduated with a Masters degree in SFX from Beijing Film Academy in 2009 and currently lectures at Beijing Film Academy.
LIU Yi
Traces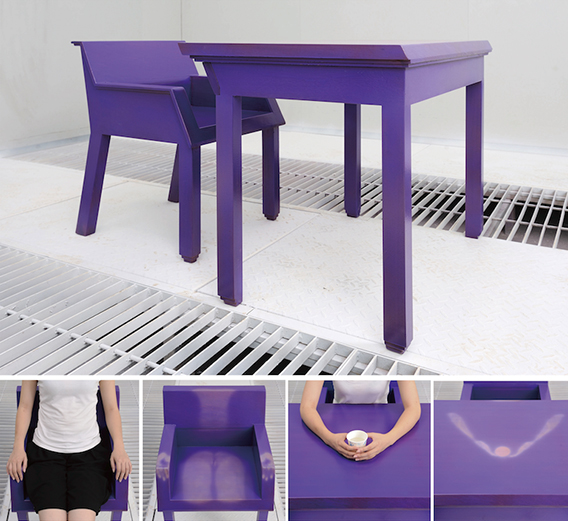 Traces is a set of table and chair that can react to people's sitting behavior. The surface of the table and chair is temperature sensible and the color changes accordingly, leaving traces on the surface that reflects our imprint on the object. It is the imprint of life which forms a close bonding between user and its object, the fetichism habituated in the single child born in China after 1980s who grew up being sensible and lonely.
LIU Yi (b. 1981) is an artist, designer, art educator and promoter. He is lecturer at Public Art Department of Shanghai Institute of Visual Art, Fudan University, and Executive Director at M50 Hezhong Art Space.
CHEN Guanxu, CHEN Jixing, ZHENG Zekai
City Slang Collection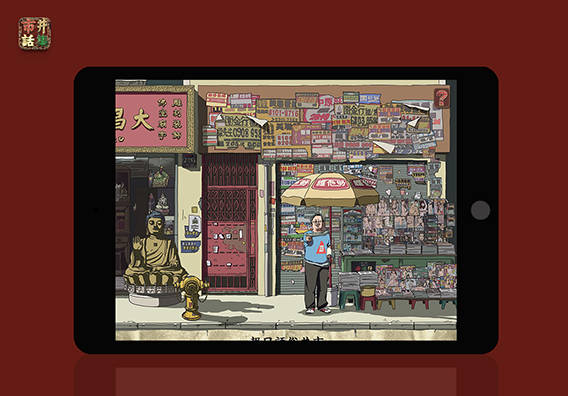 City Slang Collection presents common people's life story through reviving the slang which is lost in media communication due to concern of vulgarity. The artists think the city slang form the lifeblood of the city as a society with its citizens, reflecting their life which seem to be absurd or nonsense, but with blood and tears. By using animation and interactive design, the work express the slang from inside out, letting user experience the "creation" of the slang.
CHEN Guanxu (b. 1991), from Hong Kong, is an interactive designer. He graduated from Interactive Design at CAFA, into research on traditional Cantonese culture.
CHEN Jixing (b. 1990), from Zhongshan, Guangdong, is currently studying at CAFA. He's interested in illustration and political culture.
ZHENG Zekai (b. 1992), from Foshan, Guangdong, is currently studying Digital Media Animation at CAFA.
GUO Yiqing
Aftertaste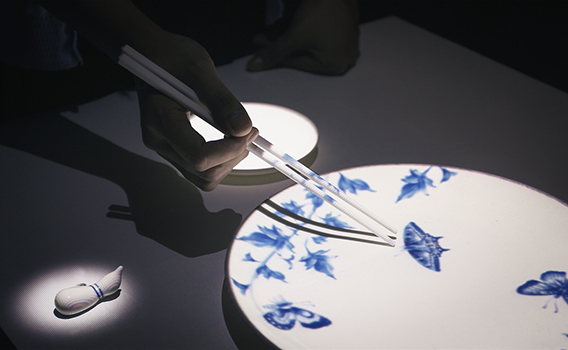 Aftertaste turns the blue and white porcelain, the traditional Chinese design, into an interactive media installation, which forms a new aesthetic experience realized by the integration of art and technology.
GUO Yiqing (b.1991) from Shantou, Guangdong, graduated from GAFA, is a graphic designer at Xiehui.
Swiss works:
Baptiste Milési
Binary Land «Hello World!!!»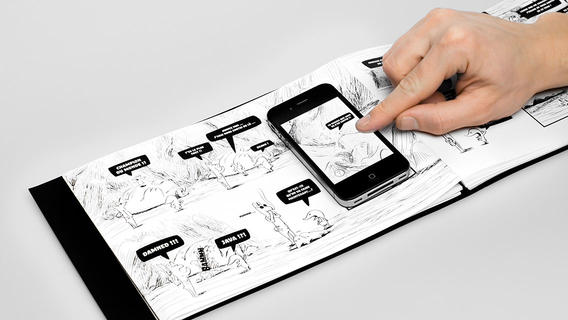 Binary Land "Hello World !!!" is a comic book that can be brought to life with a mobile application. Simple interaction offers the reader twenty-two playful animations hidden within the cartoons. Printed images within the comic strip contain tags that are recognized through the smartphone's camera. Plot and gameplay mix into a "storyplay" inspired by geek culture. Within the story the reader interacts and plays to follow the adventures of Java, Hyxemel and Arduino, three characters in quest for their lost country.
Interaction design, plot, drawings: Baptiste Milési
Plot and dialogue: Julien Milési
Computer programming: Raphaël Muñoz
Production: HEAD Genève, Masters Media Design, 2012
Baptiste Milési (b. 1986) is a graphic and interaction designer and the founder of Transmiï Studio. Following a Bachelor degree in Visual Communication, he graduated with a Masters degree in Media Design from HEAD Genève in 2012 and was awarded the Prix d'Excellence from the Hans Wilsdorf Foundation.
Nadezda Suvorova
OKO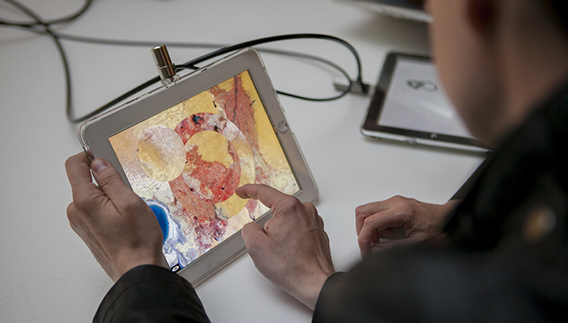 OKO is a novel graphic puzzle game for tablet devices. Faced with a moving collage, the player manipulates a series of rotating circular sections to reconstruct satellite image. For each level, the animated pieces multiply with increasingly complex patterns. Like solving a moving jigsaw puzzle, the challenge is to keep your eye on the detail. OKO is a mesmerizing and immersive experience navigating amazing images from the NASA database.
OKO won a Swisscom Best iOS App 2012
Application for iOS developed with openFrameworks
Available for iOS and Android
Game design: Nadezda Suvorova
Tutors: Douglas Edric Stanley, Annelore Schneider
Sound design: Jérémie Forge
Computer programming: Pierre Rossel, Thomas Bohl, Nadezda Suvorova
Production: HEAD Genève, Masters Media Design, 2012
Nadezda Suvorova (b. 1987) is a graphic and interaction designer, currently studying Media Design at HEAD – Genève.
Apelab
IDNA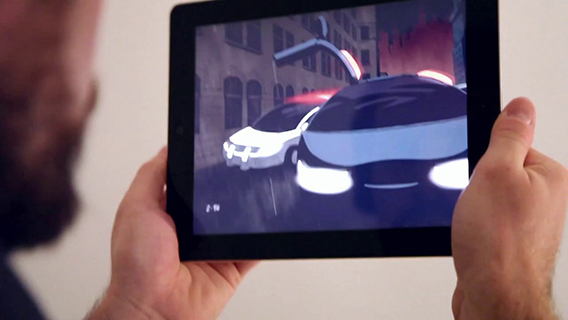 IDNA is the first story deployed on our spatial storytelling prototype for VR and mobile devices. Each scene is designed on 360 degrees, so that you can explore it however you want through the story. This is done simply by turning the device around you. The story has branches: according to the user's focus on certain angles or characters, the film may seamlessly take a different path. The idea is to bring the viewer to follow the story according to its sensitivity and its affects to a particular character or a particular event. The audio narrative is 3D sound, sensitive to the body's orientation. The story can be seen again and again in order to understand the whole plot. The viewer can discover elements of the story he had not been aware of by focusing his attention on a different character or frame at precise moments in the film. The narrative evolves also depending on the weather and time of day.
IDNA was presented at the Tokyo Game Show 2013 and XMediaLab Switzerland and was awarded with a GDC Best in Play 2014.
Game Design: Sylvain Joly
360° Narrative Design: Emilie Tappolet
Production: Apelab with support of HEAD Genève, FMAC and AHEAD Foundation, 2013–2014
Sylvain Joly (b. 1982) is studying Masters Media Design at HEAD Genève, and the co-founder of Apelab together with Emilie Tappolet (b. 1984) and Maria Beltràn (b. 1987) who are both graduated with a Masters degree in Media Design from HEAD Genève in 2012.
Fabien Duperrex
Magnetics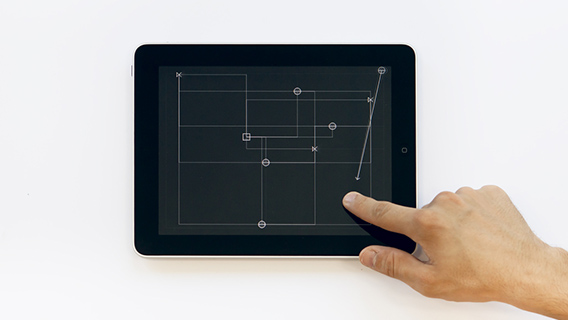 Magnetics is a 2D strategy puzzle game. The goal is to destroy "magnetic" tokens by hitting them with another token of the same type launched from a base revolving around the central area. There are three types of tokens with different shapes and properties: speed, gravity and magnetism. When a projectile misses the target, it remains in play, making the task more complex. Magnetics' minimalist design enhances the gameplay, which was created specifically for mobile displays.
Game design: Fabien Duperrex
Computer programming: Fabien Duperrex, Douglas Edric Stanley
Production: HEAD Genève, Masters Media Design, 2012
Fabien Duperrex (b. 1990) is currently studying Masters Media Design at HEAD Genève.
Yulia Garcia-Skrebneva
Foxx Keedz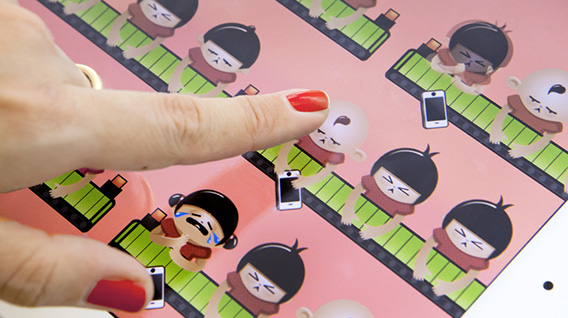 Foxx Keedz is a serious strategy puzzle game. You play the supervisor of a Chinese phone company. Your mission is to mentor young workers and to maximize production. Displays of exhaustion, sadness, shouting or madness are prohibited. Scroll horizontally the three assembly lines to spot misbehaviours and call the workers back to order using various touch gestures.
Design: Yulia Garcia-Skrebneva
Additional Game design: Yuan Li
Sound design: Jérémie Forge
Computer programming: Pierre Rossel
Sound Design: Dominique Fabre
Production: HEAD Genève, Masters Media Design, 2012
Yulia Garcia-Skrebneva (b. 1979) graduated with a Masters degree in Media Design from HEAD Genève in 2012.
Benjamin Ben Kemoun with Praiya Chinagarn, Andrea Rovescalli and Guillaume Vautier
Once Upon a Tale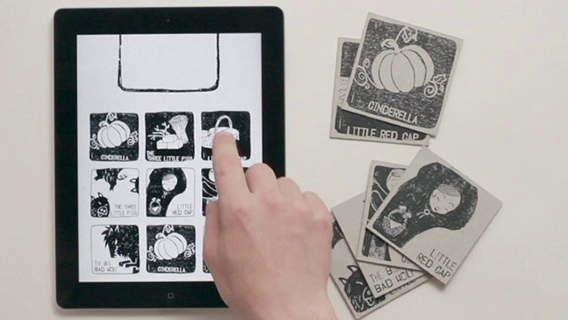 An interactive story played out on a tablet computer and deck of cards that blends Cinderella, Snow White, the Three Little Pigs, Red Riding Hood, and more. What happens when Red Riding Hood meets Snow White instead of the wolf? Once Upon a Tale is still a work in progress. Discover the deck of card and get a preview of the interactive app by watching the demo.
Project designed during a workshop led by Anette Lenz, Nicolas Nova, and Étienne Mineur.
Production: HEAD Genève, 2013
Benjamin Ben Kemoun (b. 1987), Praiya Chinagarn (b. 1987), Andrea Rovescalli (b. 1983) and Guillaume Vautier (b. 1986) are studying Masters Media Design at HEAD Genève.
Marion Bareil & Camille Attard
Onirigami
Onirigami is an adventure game with a innovative setup : an iPad and two figurines which are the heroes of the story. Each figurine is controlled by one of the two players, they have to cooperate to complete the game. By moving the figurines on the screen, players progress in an interactive story and trigger plot's events, solve puzzles, interact with the environment. For children from 7 to 12 years old and their parents, Onirigami is meant to revisit the Adventure game genre in an innovative way. It is a creation between video game and board game, exploring the possibilities and benefits from the connection between object and screen. The game uses a recognition system (for the figurines) created by the french design studio Les Éditions Volumiques.
Game design: Marion Bareil & Camille Attard
Developed with the support of Genilem HES, HEAD Genève, The Swiss Arts Council Pro Helvetia. 2012-2014
Marion Bareil (b. 1988) graduated with a Masters degree in Media Design from HEAD Genève in 2013.
Camille Attard (b. 1988) is a game designer graduated from L'École des Gobelins in 2011. Their work focus on innovative setup and experimental gameplay. With Onirigami they were awarded the Prix Genilem HES-GE and obtained a Grant by the Swiss Arts Council Pro Helvetia