A session for young brilliant minds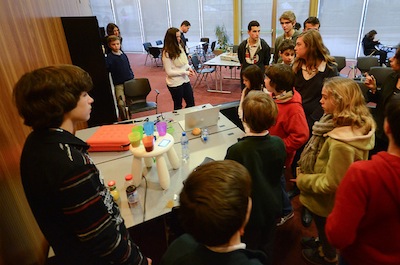 At Lift, we believe that it is essential for teenagers to get opportunities to play and tinker with technologies influencing their future. One way to do this is to discover cool projects and meet inspiring people, to learn that everyone can take an active role in shaping the future and making innovation happen.
For several years now, young Lifters were invited to join the conference for free on Wednesday. Following the success of the Lift13 Minecraft workshop led by teenagers, and the special youth program at Lift France 2013 in Marseille welcoming over 200 pupils, we decided to offer an entire Lift Youth session at Lift14.

Treats by a 16-year-old hacker and maker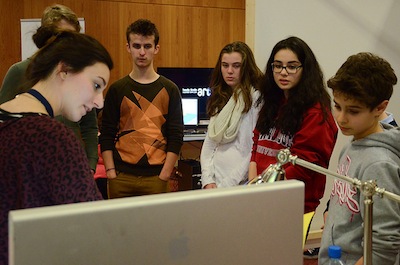 24 teenagers participated in the special session kicked-off by a talk by Sean Goff, a 16-years old hacker and maker, passionate about solving common daily issues, constantly creating new electronic tools and gadgets such as:
the automatic drink mixer, allowing to program up to 50 specific beverages mix from 5 different drinks
the rocket launcher, a fireworks remote-controlled launching machine with a laser-pointer to precisely orientate to any target
the Silicoin, a new kind of Bitcoin system, wasting much less energy than the original
Learning to 3D-print, piloting space shuttles
After this inspiring encounter, the young Lifters learned all about 3-D modeling and printing with the Neuchâtel Fab Lab: they had the opportunity to shape a virtual object of their choice and to see it becoming real in a 3-D printer.
The session ended by a guided tour of the highly interactive and playful exhibition curated by the Geneva University of Art and Design HEAD. The young participants (like all other Lifters) had a great time playing the games created by HEAD students and spent the rest of the session piloting a space shuttle, jumping from one building roof to another, and exploring the universe.
We got great feedbacks about this Lift14 Youth session and are already cooking-up new ideas for Lift15, the 10th anniversary edition.
Let's get inspired by the future generation of innovators!
Watch Sean Goff speech, Lift's youngest speaker ever, who was also a bit a secret kind of star of this year's edition, with his packed interview schedule.