200 IDEAS and the future of Lift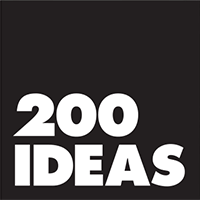 There's a new event in town, and the man behind it is Laurent Haug, founder of Lift! 200·IDEAS is an exclusive event for 300 decision makers in Geneva and will take place for the very first time on November 11. With this new event Laurent intends to organize an intimate, short, business-minded gathering in French for the local community.
We are happy to see Laurent launching a new thing: since having handed over the leadership of Lift back in 2011 and catching his breath, he has been busy with a variety of jobs: consultant, speaker, venture partner at Anthemis and lecturer at HEC Lausanne - to name just a few. Laurent has always been an outstanding trend scout, so "200·IDEAS" is a great opportunity indeed for local decision-makers and influencers to get a condensed presentation of fresh ideas.
We are very curious to see the outcome and will no doubt integrate a few of the 200 ideas at Lift itself, to deepen the discussion and explore what it takes to get from a great idea to lasting impact.
Lift onwards: Making innovation happen
Since 2011 Lift has taken important steps to strengthen its role as a international catalyst for change, where innovation drivers from all over the world connect and join forces to tackle actual challenges. By developing new formats with an emphases on concrete output, Lift today offers a balanced experience mixing learning, connecting and doing.
We have also developed Lift into a launching platform for exciting projects, to help them create global impact. At the intersection of creative-, research-, tech- and business communities, Lift has an amazing chance to help build synergies between different worlds and create opportunities to exchange and work together. It always starts from an idea and our passion is to identify those with the potential to grow into a major collaborative venture - and make them go boom! Like "Ville Vivante", a small idea at first that created a global impact, being showcased in major publications and from Paris to Beijing. So was the Urban Data Challenge, an idea to bring together civic hackers from Geneva, Zurich and San Francisco, becoming reality with the launch at Lift13 and a big expansion coming up in 2014. Or Seedstars, a world-wide start-up competition focussing on emerging markets, hosting their competition finale at Lift. Turning ideas into strategies, into action plans, into products: that's what brings us together at Lift time and time again.
So: we'll have some more very big news about Lift soon, and as the excitement builds up for the next Lift Conference (2014 is expected to be an extraordinary vintage!), we're looking forward to see Laurent launch 200·IDEAS, to see Geneva's decision makers enjoy Laurent's fine selection – and to see you there!