Sami Kanaan opens Urban Data Challenge exhibit at OKcon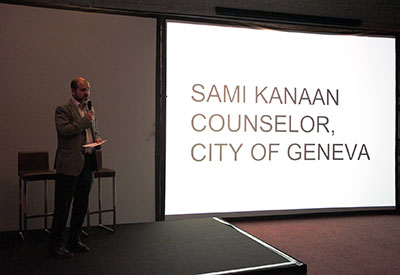 On the second day of the world's leading open data and open knowledge event, Sami Kanaan, Counselor for the city of Geneva, officially opened the Urban Data Challenge exhibit, showcasing some of the best projects from the online competition.
Urban Data Challenge took place early this year as a joint effort between swissnex San Francisco, Lift, GAFFTA and opendata.ch. Providing transportation data from the cities of Geneva, Zurich and San Francisco, contestants around the world were asked to create informative but also beautifully designed web apps.
Lift, backed by the city of Geneva, brought some of the best ones home for display and discussion during OKcon (see projects at the bottom).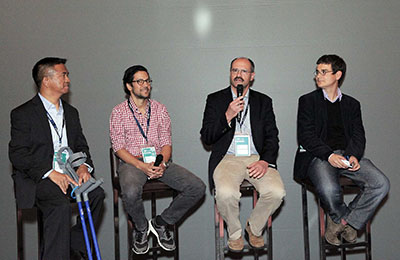 During the vernissage Sylvie from Lift moderated a panel of Swiss and US transportation- and open data experts, including Antoine Stroh (Transports Publics Genevois), Christopher Pangilinan (San Francisco Municipal Transportation Agency), Michael Kaschesky (Linked Data research group) and Bruno Mändi (Zurich Transportation specialist). They discussed the exchange of knowledge between governments and citizens as well as between countries themselves. Pointing out the successes of these past years, they are confident in the evolution of projects such as Urban Data Challenge, especially when it comes to getting the data to the masses in an easily understandable form.
Expanded Version of the Urban Data Challenge for 2014
Looking into the future, 2014 will be another big year for online competition as a second version of Urban Data Challenge will be launched at Lift14. Using the same format but adding on more cities and more (real-time!) data, this new edition promises some beautiful visualizations of transportation around the world. You can get more information on the official website and sign-up there to get the latest news.
**** Do you know a city we should get in touch with or other partners that should join the challenge? Please let us know we, are currently in the phase of city outreach. Thanks! ****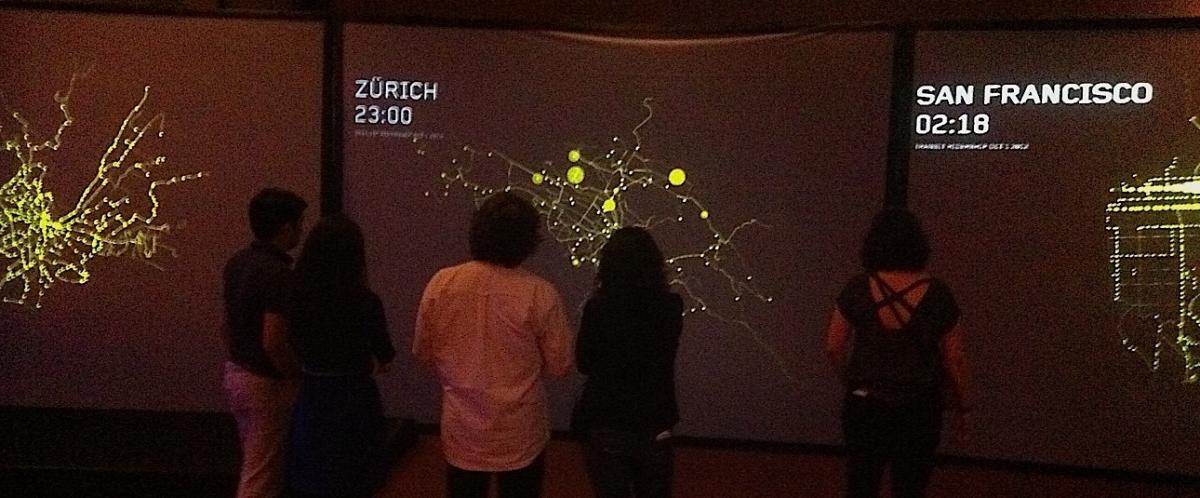 Interview of Sami Kanaan during the exhibition opening
Video credits: Pat Mächeler
Urban Data Challenge Exhibition at Open Knowledge Conference
Video credits: Johann Recordon
Winning Projects of the Urban Data Challenge 2013
Dots on the Bus (Grand Prize)
Frustration Index (Second Prize)
A City's Heartbeat (Third Prize)
Urban Bus Races (Third Prize)
One Map, One Week In Public Transport (Honorable Mention)
Transit Patterns (Honorable Mention)