Public Transport Geneva launches real-time API
Today the public transport agency of Geneva (TPG) is officially launching a real-time open data API, featuring the data of the next departures.This is the first real-time open data portal of its kind for public transport in Switzerland and we are very much looking forward to hosting the TPG launching competition at the upcoming OKCon next week.
Competion launching at OKCon Sept 18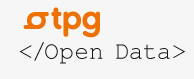 The objective of the competition is to promote the usage of the new platform and encourage citizens, programmers and designers to come up with ideas for apps and other creative use of that data. To kick-off the competition we will host a workshop at OKCon on Sept 18th, where you learn more, get inspired and connect with others. The workshop will be moderated in French by Simon Chignard, author of the book "L'open data, comprendre l'ouverture des données publiques".
If you are not speaking French, don't worry: the competition runs until November 22th and the API is in English of course! To get inspired you can always check-out the application "frustration index" and other ideas developed during the Urban Data Challenge. Good Luck :)