Ideas from the Lift14 Brainstorming Apero
Last week we organised a brainstorming session at the Lift office. The session was open to everyone who felt like having a drink, discussing Lift14 ideas and catching-up with other Lifters. 25 people braved their way to the Lift office on this hot summer evening.
After a few first welcome drinks Sylvie from our team did a short presentation about the evolution of the Lift Conference format and audience over the past eight years. Then we kicked-off the discussion about ideas for the Lift format and to do so we created three groups: One was composed only by persons who had never attended a Lift conference before (how is it possible ;) and the other two groups featured people who have attended Lift at least once, some actually had been to over five Lifts before.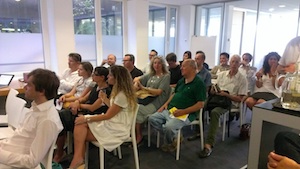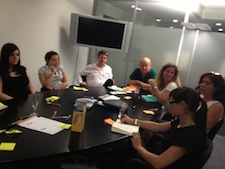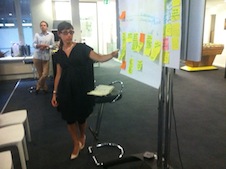 Group 1: Fresh Ideas by "Lift Newbies"
Nicolas animated this group and they discussed about the top things they love and absolutely hate in conferences. After having collected different such moments, they proceeded to developing ideas to turn these moments in positive features, such as: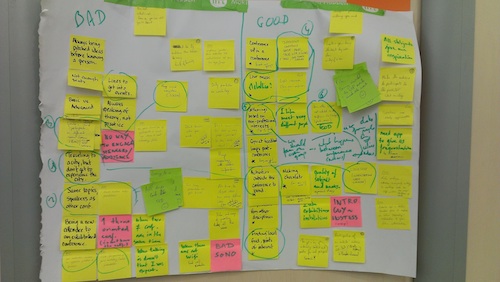 Organize activities or workshops outside of the conference center, to allow participants to meet and mingle while exploring the city
Invite new kinds of people that would create a complete surprise (no, we won't tell you, or it wouldn't be a surprise anymore ;)
Fresh layouts to stage the conference talks - eg. live music interludes, topics not related to the conference, or make the audience participate on stage.
Group 2: Improving existing Lift Formats
Abir's group, composed of previous Lift participants, intensly discussed new ideas to help the conference participants meet interesting people. Other hot topics they debated were creative improvements for the Fondue and the Venture Night:
Allow people to meet around specific projects, mixing complementary competences
Promote the Venture Night start-up profiles and projects ahead of the conference with a voting system, to allow for a more informed selection of the Venture Night finalists
Provide customized "Lift Experience Tracks", based on recommendations by other Lifters (for example "First-time Lift Track").
Group 3: Renewing the Creativity of the early Days

The third group led by Sylvie and Magaly also tackled solutions to help participants meeting interesting people, who could help them with their projects. Of course always keeping in mind that all activities should be opt-in, that those who want to let serendipity work its magic remain free to do so.
Ideal "connecting" solutions should accommodate both people who wish to meet people with similar interests, but also Lifters who wish to explicitly break-out of their daily routines to get fresh inspiration and exchange with people they wouldn't normally meet:
Music activities (remember the Lift song competition at Lift08?)

Stickers to pimp the badges, allowing for visual identification of people with similar interests

Activities to make queuing time, for example while registrating or grabing coffee, a surprising, fun and connecting experience

Interactive low-tech boards where people can post little messages, swap fondue vouchers, advertise specific lunch tables
This year's Brainstorming Apéro was a truly energizing experience and we had a lot of fun! Thank you so much for joining us, we hope you liked it too. For those who could not join us: Don't be sad, we plan to do a second Apéro Brainstorming Session early September, to follow up on the ideas and turn them into Lift14 features.