Great book: "Interviewing Users" by Lift speaker Steve Portigal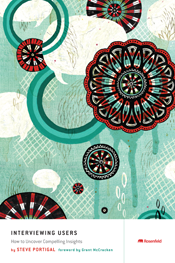 Steve Portigal, who delighted us with his speech Lift11 speech "Discover and act on insights about people" just published his first book:
Interviewing Users explains how to succeed with interviewing, including:
Embracing how other people see the world
Building rapport to create engaging and exciting interactions
How to listen effectively in order to build rapport
Our editorial colleague Nicolas Nova reviewed the book and obvisously loved it:
"A great how-to handbook for anyone engaged in user interviews, conducted in a design context. The book is packed with ideas, guidelines, and tricks on how to surface relevant insights for new products and services. This book is a fantastic compilation of insights and methodological tricks!"
Get your copy: Use discount code LIFTCO2013 to get 20% off Steve's book here. Also on May 15th Steve will be doing a free webcast entitled Interviewing Users: Uncovering Compelling Insights, join in!