Interview with Mark Sorrell
We are very pleased to share with you a short interview with Mark Sorrell, Development Director at Hide&Seek. At Lift13 Mark will talk in the session "Mobile stories" on how to discover the creative potential of mobile phones and how artists and designers repurpose them in original ways.
Mark, who are you and what do you do?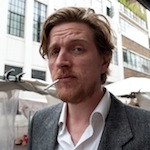 I'm the Development Director at Hide&Seek - a London based game-design agency with a focus on inventing new kinds of play - which means that I have to match the creative and commercial needs of the agency together. Continually shaping strategy, finding new insights, speaking nicely to people, getting excited about things, getting other people even more excited about things, designing stuff, writing all of it down, that's what I do. Thinking, talking, writing, mostly about games.
Tell us a bit about one of your latest projects your were working on.
There are mounds of exciting stuff I can't talk about yet, as is always the case, but the last really exciting project we worked on was the British Intelligence Officers Exam for Sony, which was a chat-bot powered text adventure for Skyfall, the latest Bond film. It was and update to the old text-adventure style of game ("GO EAST" "YOU WERE EATEN BY A BEAR") and was genuinely exciting, mentally challenging and really quite emotive. It was a great mixing up of the old and the new and had some really great writing involved. It's good to see technology enabling craft like that, especially when the end product is so exciting and much fun.
What recent change, technological or social, were you surprised by? Why?
Given that I'm supposed to be at least one step ahead of any social or technological change, I'm not sure I should admit to any surprises...
The success of tablets, the size of the userbase now, has been somewhat unexpected, but to be honest, I'm far more surprised at how much things haven't changed than how much they have. People still watch TV in huge numbers for incredible lengths of time, second screen still isn't a monetisable thing, no-one has cracked what the mobile (or even internet) advertising product to match the billboard, newspaper ad, or commercial is, Facebook is still massive, banks, in internet terms, still lag behind the rest of the world by a decade or more - things move slowly. Behaviours don't change overnight (though sometimes they look like they are.)
What do you do to disconnect ?
Not much, I don't feel like being connected is stressful, or that being disconnected is relaxing. I tend to have phases of consuming as much media as I can, chewing through games, books, movies at a tremendous rate, then consuming almost nothing, letting it all settle in. I'm a big believer in the best ideas coming when you're not thinking about a problem, so I like to stuff myself full, then give myself plenty of time to digest.
---
Meet Mark Sorrell in person at Lift13, grab your ticket now! http://liftconference.com/lift13/register