Interview with Sebastian Dieguez
Please meet Sebastian Dieguez, researcher in cognitive neuroscience at the University of Fribourg, as new speaker at Lift13! Sebastian will talk in the session "Noise and Speed: Loose Brakes and Failing Filters". He will share with us in an entertaining and hands-on way his insights about the human mind and live demo some ways to hack it...
Who are you and what do you do?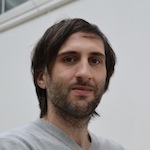 I am a cognitive neuroscientist and occasional writer. I spend most of my time designing, conducting and directing experiments at our lab in Fribourg, writing about the human mind for a professional audience as well as for the general public, and overall trying to make sense of human behavior.
Tell us a bit about one of your latest projects your were working on.
Here is a well-documented tendency of the human mind: we are biased to perceive ordered and meaningful patterns in noisy environments. I investigate the extent to which this tendency can be altered or reversed. Specifically, I am interested in human's ability to produce random series of numbers. As it turns out, this task is almost impossible, but performance can be improved by very simple manipulations. These studies, I think, offer some insight as to the origins of superstition and creativity.
What recent change, technological or social, were you surprised by? Why?
In light of recent technological and social changes, my amazement is retrospective. I keep being surprised at the extraordinary quality of early scientific work, say at the turn of the 20th century, work that was produced without the benefits of instant email contact with colleagues, word processors, statistical software, modern equipment and so forth. From this perspective, I am also rather surprised by the current decline in our ability to be amazed by anything (that matters) anymore.
What do you do to disconnect ?
I connect to other things: sports, literature, philosophy and writing satire. I don't try too hard, however, to have a social life.
---
Meet Sebastien Dieguez in person at Lift13, grab your ticket now! http://liftconference.com/lift13/register