Meet Lift speaker Atau Tanaka
We are thrilled to announce Atau Tanaka, Chair of Digital Media at Newcastle University and Director of Culture Lab, as speaker. Atau bridges the fields of media art, experimental music, and research. He worked with IRCAM, was Artistic Ambassador for Apple France and researcher at Sony Computer Science Laboratory Paris. Atau was also active in the Tokyo noise music and media arts scenes. We can't wait to hear him talk in the "Noise & Speed"-session at Lift, on Friday February 8th.
By the way: If you did not so far, get your Lift13 ticket now, before prices will go up by 200 CHF!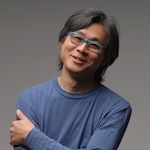 Atau, who are you and what do you do?
I am a musician. I bring the sensibility a musician has to time, space, and presence, to the digital domain.
Tell us a bit about one of your latest projects your were working on.
With funding from the European Research Council, I'm leading a major 4 year project called MetaGesture Music. We are trying to understand the embodied relationships people have to music. To do this, we apply advanced machine learning techniques to analyse musical gesture, and also look at cultural contexts in our everyday interactions with sound.
What recent change, technological or social, were you surprised by? Why?
It's hard to be surprised. The future as we imagined it in the 1980's and early 1990's - that of a networked, digital society with democratised means of publication, has arrived. That being said, we didn't imagine the exact details of how it would all happen. One aspect of this that I'm surprised buy recently is the incredible development of visual communication, where the success of Instagram has created a culture of communication that is image based - taking this power away from mass media and bringing it to personal communication.
What do you do to disconnect ?
I disconnect by going mechanical and getting physical. I ride a 1988 BMW motorcycle with no CPU, no chips, just cable and gears. I built my own studio with power tools that are electrical but not electronic.
Learn more about Atau's fascinating projects and activities on his Lift Profile.