Interview with Anthony Dunne on United Micro Kingdoms
Please meet Anthony Dunne, Professor and Head of the Design Interactions programme at the Royal College of Art. At Lift13 Anthony Dunne will talk in the session "From Fiction to Design", alongside Rachel Armstrong, co-director of AVATAR (Advanced Virtual and Technological Architectural Research), to explore the mutual relationship between science-fiction culture, technological research and design.
If you did not so far, get your Lift13 ticket now, before prices will go up by 200 CHF!
Anthony, who are you and what do you do?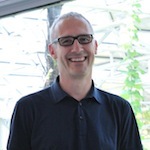 I do a few things. I run the Design Interactions programme at the Royal College of Art in London, I do experimental design projects with my partner Fiona Raby as Dunne & Raby, and I write about design. The focus is nearly always on exploring the social, cultural and ethical impact of technology on everyday life.
Tell us a bit about one of your latest projects your were working on.
We're currently working on a project called "The United Micro Kingdoms" for the Design Museum in London which opens in January. It presents a nation devolved into four self-governing counties, free to experiment with governance, economy and lifestyle. UmK started as a response to Sternberg Press' Solution Series in which writers re-imagined countries. We loved the premise, but wanted to explore this from a design rather than literary perspective. We wondered if design could bring something new to conversations about alternative futures: can we explore big ideas through small things? Many "futures" projects adopt a science-fiction aesthetic; we wanted to explore alternative ways of representing fictional futures.
We've focused on four very different transportation systems presented as scale models, each based on a different combination of political ideology and technology. None of our scenarios are simply utopian or dystopian. We have tried to design them to expose trade-offs: convenience versus control, individual freedom versus hardship, unlimited energy versus a limited population…
What recent change, technological or social, were you surprised by? Why?
For the UmK project we've been doing a lot of research into transport related technologies and became fascinated by the systems behind self-drive cars, or Digicars as we call them. The car changes from being a vehicle for navigating space and time to being an interface for navigating tariffs and markets. Every square meter of road surface and every milli second of access, at any moment, can be monetised and optimised. Robocars are being presented as a way of creating relaxing commutes where the car becomes a social space, but we just have to look at economy airlines or telco pricing schemes for a glimpse of how it is likely to turn out, and it's not a pretty picture.
What do you do to disconnect?
I enjoy travelling to remote places where bleak landscapes and strange technologies meet, places like demilitarised zones, research stations and the remnants of experimental utopias. One of my favourite recent trips was to the Very Large Array (VLA) in New Mexico. Another was to Wonder Valley in the Mojave Desert. I guess deserts feature a lot, they're places where it still feels like anything is possible, where it just might be feasible to do a large scale experiment, or to just live differently.

--
Thank you Anthony!