Our "Build-A-Workshop" toolkit is out!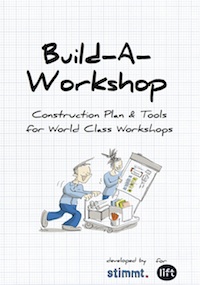 Since 2006 fantastic concepts and prototypes like Ville Vivante have emerged from our workshop program. We even know of few start-ups that were born out of interactions between Lifters. Therefore, we strongly believe that innovation is born out of interaction.
To create a fertile environment, we are investing even more time and energy into the program by coaching our community into building interactive workshops. But we couldn't do this without the help of customer experience experts from Stimmt. Together, we are bringing you the "Build-A-Workshop" toolkit - a construction plan and tools for world class workshops. This toolkit is going out to all our workshop leaders and because we think it is so good, we thought we should share it with you.
Don't hesitate to download your copy and transform your workshop practice forever!