Lift13 Participant Profile: Urs Bucher, KPMG AG
Who are you?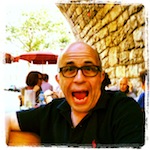 A curious guy!
I spent most of my business life in IT and online. Worked for Microsoft back in the days; led sales & marketing at Namics, was responsible for KPMG Europe's external online activities and am now with KPMG Switzerland; acting as the head of account management. Check out my Vizify bio for more details.
People say I tend to network quite well - so I have a quite good network in the IT and online industry, but not only in there; I am part of one of Zurich's guilds, of the local chapter of the Awesome Foundation and of the TEDxZurich team.
Of course my family is most important in my life.
Why do you come to Lift?
The fondue. The talks. The people; both the speakers and the attendees. The atmosphere. New friends. Fresh ideas. Inspiration. Last but not least to see Sylvie and Laurent again.
Your recommendations to get the most out of the Lift experience?
Leave work back at the office; come open-minded. Be ready to listen, meet, workshop and discuss. Sleep enough before Lift; chances are you won't get too much sleep during these three days. Don't plan to leave too early on Friday; usually the guys save the best talks for last…