Start-up call now open!
Your start-up is a success story?
Lift, Alp ICT, CTI start-up, OSEC and the Geneva Promotion Economique have teamed up to promote entrepreneurship at Lift.
For a chance to tell your story to Lift's international community of CEOs, entrepreneurs, designers and academics, submit your project to our panel.
We've revamped the Venture Night with a new format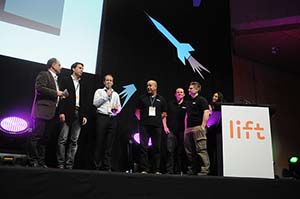 Fantastic jury panel: a jury panel of internationally acclaimed entrepreneurs will decide which start-up has the greatest international potential.
Two chances to pitch: a first round of teasers will take place throughout the day on Thursday. Start-ups will get a few minutes to present and the audience will vote for the start-up they want to hear more about in the Venture Night. The second pitch will take place in the grand finale.
Two prizes: the audience and the jury will award two separate prizes.
An international guest start-up: this year we welcome a company from Berlin to present their project.