Lift13 Participant Profile: Anna Jobin, researcher EPFL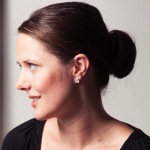 Who are you?
I am a genuine analytic mind with a big heart, curious by design, sociologist by degree, digital humanist by academic affiliation, innovation-focused by accident, strategist by definition, community manager by interest, technology aficionada by passion, coffee-drinker by necessity and unmitigated Lifter by choice.

Why do you come to Lift?
Lift treats technology and innovation the only sensible way: from a people's perspective. It goes beyond specific "fields" (tech, marketing, etc.) and easy dichotomies (good/bad, real/virtual), always with a clear focus on our future as individuals and society. It is all about interaction and the intersection of different kinds of knowledge. Same goes for the participants: I love engaging with designers, programmers, artists, entrepreneurs, journalists, students… and sociologists, of course. At Lift, I feel both understood and challenged, which is unique, because Lift is about the big picture as much as it is about the details.


Your recommendations to get the most out of the Lift experience?
You souldn't be afraid of:
- leaving your suit at home
- serendipity
- meeting new people
- thinking outside the box
- leaving a conference room if you are not listening
- making choices
- tweeting
- attending workshops
- engaging with exceptional Lift volunteers
- challenging your own biases
- having lunch (or fondue!) with someone you don't know
- meeting me and say hi ;)
Get in touch with Anna on LinkedIn or via Twitter (@annajobin).