Interview with Abhijit Bhaduri, Chief Learning Officer WIPRO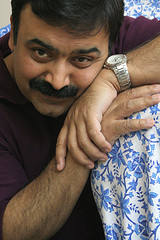 Please meet Abhijit Bhaduri, our latest addition to the list of fantastic Lift13 speakers!
Who are you and what do you do?
I am the Chief Learning Officer of Wipro Ltd. I help the organization remain agile and a incubator for leaders and leadership. I enjoy experimenting with ideas that are at the intersection of technology, media and psychology.
Tell us a bit about one of your latest projects your were working on.
Every culture across the world has deep roots in the art of storytelling. Stories can be the most powerful way to spread ideas and influence large groups. For large global organizations, teaching large groups how to look for stories and then help them learn to present the most complex data and numbers into stories can make them influencers. We have used theater, traditional storytelling methods, and film making to teach people how to connect to their stakeholders.
What recent change, technological or social, were you surprised by? Why?
I have been amazed at the power of technology changing education in very fundamental ways. Massive Open Online Courses (MOOCs) run by the best of Professors making their teaching available to hundreds of thousands of people for free will be a game changer. The www of the web now stands for whenever, wherever, whoever – at least as far as learning is concerned. What a fantastic way to blend technology, media and educational psychology.
What do you do to deconnect ?
I am passionate about writing. I write fiction and most recently have written my first book about how to hire for cultural fit in an organization. I read, blog and write about films, music, travel and people. That deconnects and destresses me..
--
At Lift13 Abhijit will talk in the session "The Agile Enterprise: Learn how businesses stay lean and nimble in the face of accelerating innovation cycles." Join participants from over 30 countries to get your innovation boost and get your Lift13 ticket!