Catherine Fieschi
Catherine Fieschi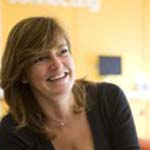 Independent researcher, Counterpoint
Catherine is the Director of Counterpoint, the British Council's cultural relations think tank. A former Director of Demos, she is a regular commentator on identity politics in the UK and Europe.
She holds a PhD in Comparative Political Science from McGill University in Canada. Prior to joining Demos in 2005, she was Director of the Centre for the Study of European Governance at the University of Nottingham. She is a contributing editor for Prospect Magazine and the author of In the Shadow of Democracy.
Born in Senegal, Catherine grew up in Italy, France and the USA. After spending a number of years in Canada she came to the UK in 1993 for a six month research fellowship, and has stayed ever since.