Lift in Asia 2008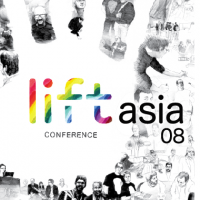 Sept. 4-6, 2008 | Jeju, South Korea
The first full-scale event of Lift in Asia took place in a breath-taking setting on the beautiful Korean island Jeju-Do. Besides inspiring speakers and workshops the 2-day event offered participants a great exhibition of interactive design prototypes in collaboration with Seoul-based Nabi art center.
Selected hot topics
What comes after the web 2.0?

Exploring the upcoming cashless economy

How will ubiquitous computing influence the way we live?

How can technologies help us shape a more inclusive and sustainable society?

The new behaviors and constraints influenced by mobile technologies
Meet some of the speakers
Lift Asia 08 videos and pictures
Watch Lift Asia 08 videos and pictures.