Urban Entrepreneurs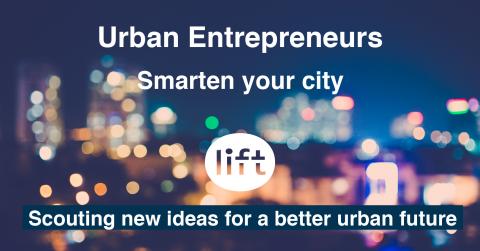 In coproduction with swissnex India & swissnex China
The Beginning of an Innovation Journey Towards a Better Urban Future
Lift launched its fourth initiative around data and cities with Urban Entrepreneurs: Smarten Your City! This program is designed to create an urban transversal vision through a series of events bringing together entrepreneurs, designers, developers, academics and corporates to explore new solutions to address these urban challenges. The mission is to foster new ideas in order to co-create, prototype and produce solutions for a better urban future and in particular around the following topics: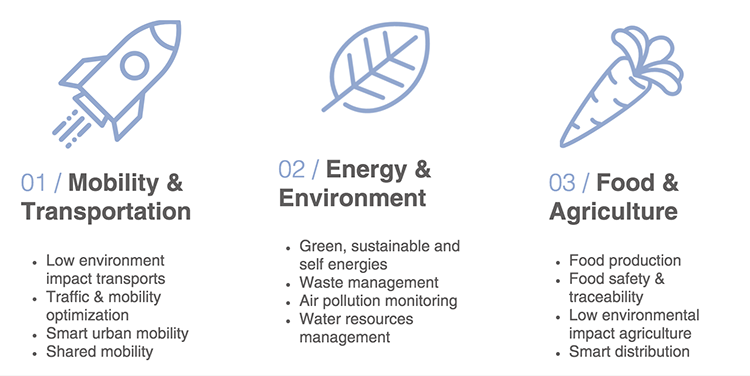 A Three Step Open Innovation Journey
The Urban Entrepreneurs initiative is a three step program:
Ideation workshops in selected cities across Asia and Europe to brainstorm, create teams and work on a specific idea to be submitted on the Lift platform.
Taking the idea to the next level: a prototyping experience at the Lift:Lab in Geneva from 1 to 3 March 2017.
Depending on the prototyping result, some of the project may get funding support, others might be invited to join an accelerator.
We have now finished the first phase of the program with 6 workshops organised with over 200 participants and 37 projects submitted. We are ready to announce the selected teams and prepare for their arrival at the Lift:Lab in Geneva!
At the Lift:Lab, they will have access to tools, rapid prototyping capabilities, expertise, methodologies and a diverse community of innovators to take their projects to the next level!
The Winners of Urban Entrepreneurs: Smarten your City! Have Been Revealed!
We would like to thank everyone for participating in the workshops and submitting their projects! There were many exciting projects but unfortunately we had to make the difficult choice of selecting a limited number of projects per cities. The winners were selected by a panel of experts and jury members from each city based on the following criteria: impact, feasibility & viability.
We look forward to welcome the winning teams in Geneva!
Please, meet the selected projects and learn more about what happened during the workshops in our blogposts and video recaps below.
In India

The project selected in India was: " Fibsol "
- Fibsol offers a light weight Fertilizer Carrying Membrane (FCM) and FIB app to promote organic urban farming with increased yields of organic fruits and vegetables reducing the loss on supply chain from villages to cities.
In China
The project that was selected is: " Open Greens ", focusing on food & agriculture.
- Open Greens is a unique home-owned food growing system which occupies the sides of windows like shutters, pushing the limits of what it means to have a personal garden in the city. The mechanism will give inhabitants access to fresh and healthy greens from their apartment.
In South Korea
The South Korea workshop has seen two teams selected:
The first chosen project is: " Life Hub ", focusing on food & agriculture.
- Bringing farmers and customers together by turning ordinary people into urban farmers through Life Boxes. We're all farmers now!
The second project chosen is: " VirtuRealWorlds ", which covers all 3 sectors tackled by Urban Entrepreneurs: Mobility & Transportation; Energy & Environment; Food & Agriculture.
- "An interactive platform bringing societal added value through gamification of real economy with real people within virtual worlds."
In Switzerland
We had two workshops in Switzerland hosted in Geneva and Lausanne.
The first project is: " Base_96 ", focusing on food & agriculture.

- Base_96 is a platform for modular instrument development. This project fits in the context of biology oriented prototyping, allowing end-users to easily develop instruments in line with their applications within different sectors such as food & agriculture. Based on an open-source software, we hope to set a benchmark for collaborative module development.
The second project is: " DAISEE ", focusing on energy & environment.

- DAISEE is an open design program for people who consider Energy as a Common(s). They are going to build the Internets of Energy with resilient, decentralized, secured and trusted energy infrastructures. Their goal is to provide the conditions for Prosumers to freely decide how to share energy and for grid stakeholders to transparently access auditable anonymous energy data.
A Series of Ideation Workshops in Asia & Switzerland
Seoul
Our first Urban Entrepreneurs ideation workshop took place at the Google Campus Seoul, South Korea, in collaboration with our great partners Asiance, G3 Partners, University of Geneva and Think Services. It was a delight to be back in Korea after our Lift Asia endeavours from 2007 to 2009.
After developing ideas and receiving valuable input from the experts on-sight, the teams pitched their proposals at the end of the day.
Our panel of experts will select the best project based on the following criteria:
- Impact
- Feasibility
- Viability
Thanks a lot to our amazing partners for enabling us to come back in Korea and especially Jean-Henry Morin, Olivier Mouroux and Nathan Millard! We can't wait to welcome the Korean teams at the Lift:Lab in Geneva!
Watch the video recap below, and read the blogpost here.
India
Following our Lift India endeavours in 2015 , Lift teamed up with swissnex India to organize two ideation workshops in Bangalore and Manesar about the future of food in urban settings in the context of Urban Entrepreneurs. These workshops were possible thanks to the great support of our partners Buhler who will sponsor the selected teams, and Nestle India for hosting us.
In Manesar the ideas could be clearly classified into product and process innovations. Product ideas included:
- New health foods incorporating high protein
- Complex curries
- Fat substitutes
while process ideas included:
- Allotment gardens
- Using super-heated steam to make snacks
- Integrating urban gardens in a modular way
While in Bangalore the ideas were more focused on environment and community:
- Terrace gardening
- Converting waste to compost
- Increasing green cover
- Community gardens managed by migrant populations
Have a look at the video recap below, and read the blogpost here.
Shanghai
We were back in China with the Urban Entrepreneurs project and a workshop ran in Shanghai on November 19 2016 in partnership with swissnex China and with the support of Nestlé China. Working with local entrepreneurs and taking into account Shanghai specificities, we wanted to see what new ideas would emerge from the local scene.
Thanks to our awesome community partners, over 40 participants including industry professionals, researchers, and data experts joined us at Neuni-lab. Their different backgrounds contributed to broaden the scope of discussion in order to explore wider areas of solutions.They formed different teams to work and contribute with their ideas on the urban issues mentioned above.
With the coaches guidance, 7 projects were developed by the end:
- Public participation in bottle recycling
- Urban sensing project using IoT
- Traditional snacks app finder
- Vegetable shutters to grow your own food
- AI platform for Food Safety
- Big Data analytics to improve joggers health and safety
- Predicitive algorythms to enhance public transportation routes planification
Watch the video recap below, and read the blogpost here.
Switzerland - Geneva & Lausanne
In Switzerland, 2 workshops took place in neighbouring cities: Geneva & Lausanne.
- Lausanne:
The workshop in Lausanne had made its main focus the future of food. The event brought together over 20 participants from various background who explored many aspects of the food system. Discussions and ideas were developped around minimising wastage, smart packaging, efficient distribution, food safety, healthy food habits and food awareness programs for children and their parents, and sustainable food supply chain.
Gianpaolo Rando shared his entrepreneurial experience and presented his project SwissDeCode: his startup has developped a DNAfoil testing kit that allow consumers and producers to build on-site food authentication.
Teams worked in groups on various project ideas and will have the opportunity to develop them in the coming weeks and submit them on the platform.
Read the blogpost about the workshop here.
- Geneva:
The workshop in Geneva on "Blockchain & Energy" kicked off in Geneva on November 24 with a focus on the "future of energy", and more particularly on energy transition and emerging technologies potential applications. The event brought together over 20 participants from various backgrounds. The aim was to explore the vast field of energy distributed systems from the blockchain principles and technology's perspective.
Read the blogpost for the Geneva Workshop here.