Lift:Youth SDG Hackathon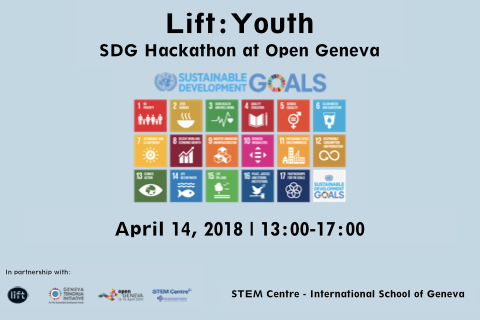 Hosted by STEM Centre. In partnership with the Geneva Tsinghua Initiative and Open Geneva.
During Open Geneva, Lift will host a half-day workshop for youth on the UN's Sustainable Development Goals. The Lift:Youth SDG Hackathon encourages the participating students to find and build solutions to the challenges of sustainable development, and learn and work collaboratively in the process of exploring and practicing.
What the Lift:Youth SDG Hackathon is all about:
Open to all students from 15 to 18 years old
Discover and learn about what the UN's Sustainable Development Goals are
Identify a problem in line with the SDG and work on a solution as a team
Get support from coaches and UN experts
Selected teams will present their projet on stage on Sunday 15 April 2018
What will you gain?
Learn about the UN's SDG
Discover ideation and pretotyping tools and approaches
Develop collaborative team work and mindset
Have fun while working on global impact issues
About the workshop:
Date: April 14, 2018
Time: 13:00 pm - 17:00 pm
Venue: STEM Centre International School of Geneva - Route de Chêne 62, 1208 Genève
Cost: Free of charge!
Register for this half-day adventure, here.
Durant Open Geneva, Lift animera un workshop d'une demi-journée, pour les jeunes, sur les Objectifs de développement durable (SDGs). Le Hackathon Lift:Youth sur les SDGs encourage les étudiants à trouver et construire des solutions qui répondent aux problématiques de développement durable, ainsi qu' à apprendre à travailler de manière collaborative durant le processus d'exploration et de création.
Le Hackathon Lift:Youth en résumé:
Ouvert à tous les étudiants entre 15 et 18 ans
Découvrir les enjeux et objectifs de développement durable (SDG) de l'ONU
Identifier une problématique relative aux SDG et travailler sur une solution en équipe
Travailler avec le support de coaches et d'experts des Nations Unies
Les équipes sélectionnées présenteront leur projet sur scène le dimanche 15 avril 2018
Avec quels éléments ressortirez-vous de ce workshop?
En apprendre davantage sur les SDGs
Découvrir des méthodologies et des approches d'idéation et de prétotypage
Développer des compétences et un état d'esprit collaboratif
S'amuser tout en travaillant sur des problématiques globales majeures
A propos de ce workshop:
Date: 14 avril 2018
Heure: 13:00-17:00
Lieu: STEM Centre Ecole Internationale de Genève - Route de Chêne 62, 1208 Genève
Prix: Gratuit!
Inscrivez-vous à cette aventure d'une demi-journée, ici.