The Future of Trust in E-commerce
The Future of Trust in E-commerce
On October 2, 2015, we had the pleasure to host a full day workshop in Hong Kong about the future of trust in E-commerce in collaboration with Greg Bernarda. More specifically, we wanted to look at the latest technology trends, human social interactions and behaviour to explore how they can be articulated into the E-commerce architectures of the future.
We welcomed entrepreneurs, executives and makers from Shenzhen, Chengdu, Beijing and Hong Kong with representatives from Alibaba, Tencent, Fossil Groups, Inditex or SGS. The workshop was structured around; brainstorming, talks, prototyping session and projects pitching.

An editorial injection session about the makers movement, blockchain and bitcoin, as well as the collaborative economy was meant to inspire the participants and enable them to integrate these learnings into their prototypes.
How TIC (Testing, Inspection and Certification) contributes to creating trust,Frederic Schenk, VP Global Group, SGS
The view from the makers' scene, David Li, Founder, Hacker Matter
Authentication & trust in the bitcoin age, George Harrap, Founder, Bitspark
The Ethical Economy - Inclusive value creation - the case of the Wikifactory, Nicolai Peitersen, Author
We started they day with a brainstorm session imagining how E-commerce will affect the way we work, live and play (and consume) in 2025 in Asia. We looked at places, actors, tools, processes, behaviour and technologies that will define the future of how trust and value will be created in E-commerce.
The most relevant ideas/topics were identified as follows:
Social platforms growing role as an e-commerce players
Digital consumers growing reliance on reviews and feedbacks in their purchasing decision
AI integrated in supply chain (logistics, manufacturing, cloud management)
Blockchain offers new areas of development to support trust building online
Main technology drivers for change; augmented reality in the shopping experience, 3D scanning and printing, AI, digital currency, wearables and cloud
Customization and personalization of products
New personalized shopping experience with AI integration
The retail store of the future will not be based on product quality but services and content
Cloud security and data protection can be addressed through blockchain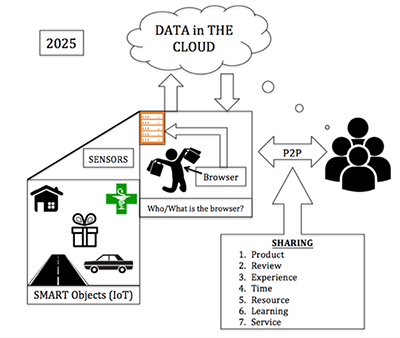 The afternoon session was dedicated to prototyping future applicable models around the retail shop of the future, trust as a business, consumer journey. The projects were pitched to Brian Wong, Vice President, Alibaba.com who gave great feedbacks but also challenged some of the outcomes around the future development of marketplaces.
Thanks to all the participants and have a look at the photo album here!