Open Geneva April 9-15, 2018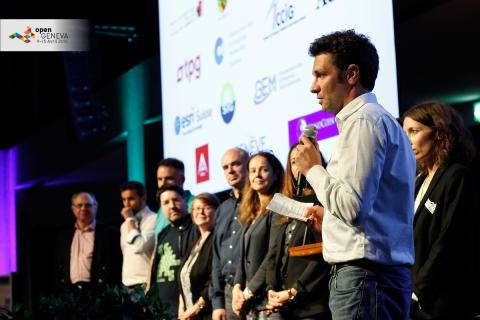 Open Geneva is an annual festival of open innovation with the mission "to promote open innovation with a spirit of knowledge sharing for the common good. Open Geneva aims to foster open innovation for the arts, science, technology, and for society in the Greater Geneva Area." The framework of the festival is aligned with the UN's Sustainable Development Goals (SDGs).
This year, the festival welcomed 30+ hackathons hosted by variousorganizations such as the HUG (Hôpitaux Universitaires de Genève), Oracle, Coty, the University of Geneva, Hospice Général, and Terre des hommes. The hackathons welcomed 800+ participants coming from all around Switzerland - with special guests from China and New York! - who worked on diverse topics such as sustainable development, smart cities, mobility, health, blockchain, migration, beauty, academia, or gender equality. All hackathons' organizers put an emphasis on diversity and creativity in the innovation process. In parallel to hackathons, conferences and workshops were also organized by the community.

As a proud founding member of the Open Geneva association, we were delighted to host two events during this year's edition of the festival: the Lift:Youth SDG Hackathon and the 3rd edition of our Health Game Jam. The Lift:Youth SDG Hackathon welcomed 30 young participants (13 to18 years old) from Geneva, Lausanne and Montreux who built solutions to the challenges of sustainable development. Our Health Game Jam welcomed 17 participants who spent 72+ hours co-creating video games on respiratory health.

Open Geneva also offers a festive approach to innovation. This year, a Silent Party was organized to end the festival on a high note! During the night, hackers could also fine tune their projects and posters in preparation for the closing on the day after.
This week of innovation ended beautifully on the campus of the Haute Ecole d'Art et de Design (HEAD - Genève) (url HEAD) with a hackshow gathering all the festival's organizers. This final event was open to the public and posters of the projects developed during the week were exposed to share the results of the hackathons. Our CEO, Abir Oreibi, also hosted a panel to discuss life after hack with Yvan Cognasse (Oracle), Cécile Catalano (Hospice Général), Pierre Mirlesse (Hewlett Packard Enterprise), and Isabelle Jacob Nebout (BNP Paribas Switzerland).

What's next?
Open Geneva is all about projects that last after the end of the festival. The association partenered with several acceleration programs to guarantee a follow-up of the projects developed during hackathons.