Lift:Lab17 - March 1-3, 2017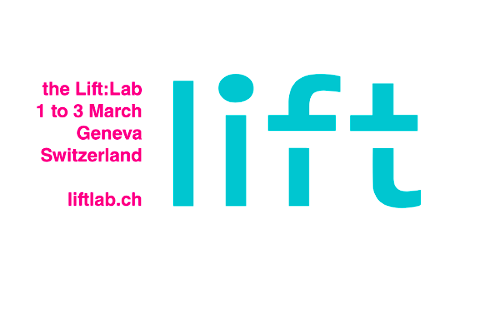 In coproduction with Codesign-it, Greg Bernarda Strategy Design
From staring at to making innovation happen - Lift:Lab a new innovative format
After 11 editions of the Lift Conference in Geneva, we ran a new format in 2017 in line with Lift's experimental spirit. The Lift Conference became the Lift:Lab to deliver a more intimate and interactive experience to its participants and community. From the conference format where people "stare at innovation", Lift moved to a new format closer to its mission which is "make innovation happen".
The Lift:Lab was designed to allow individuals and organizations to tackle business and societal challenges using collaborative innovation. Participants had access to a diverse community of innovators and experts, rapid prototyping capabilities, rich & diverse sets of expertise as well as the latest innovation methodologies & tools to bring their ideas and projects to life through hands-on building and experimentation.
The Lift:Lab was about empowering teams to work on their own projects, exchanging and learning with technology experts, participating in interactive workshops, listening to inspiring talks, and connecting with fellow innovators. Human interactions were at the heart of this open innovation set-up, as we had the pleasure to welcome reknown experts such as Alex Osterwalder, who shared his latest thoughts on innovation processes, Jean-François Noubel presenting his work on collaborative intelligence or Eva Richterich, who presented the Ricolab initiative.
Highly motivated teams embracing open innovation
The Lift:Lab welcomed 35 teams from Europe and Asia. In line with Lift's DNA, diversity was also one of the key components of this experience. Participants represented various industries: energy, urbanism, policy-making, academia, fast-moving consumer goods, gaming, life sciences, etc., as well as structure sizes and purposes: corporations, startups, SMEs, government organizations, and the civil society.
The teams, ranging from 5 to 9 members, were rich in diversity. Some invited clients to join them in the experience to co-create new services, others invited their partners and stakeholders to improve an offering, and finally some of them recruited on-site new team members to bring an external perspective to their reflexions.
We were pleased to welcome Nestlé, SIG, Française des Jeux and Canton de Genève, among many others. You can view the full list of participants here.

A customized innovation journey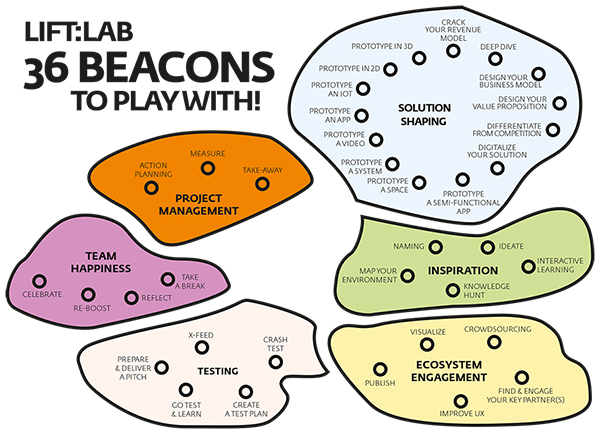 The teams were able to customize their program by selecting the most relevant modules ("beacons") according to their needs and priorities enabling them to create their very own fast-prototyping journey. Teams got to choose from six different categories of modules and 36 beacons:
Inspiration
Solution shaping
Testing
Ecosystem engagement
Project management
Team happiness.
Experts, speakers, coaches, and the community at hand
The Lift:Lab was not only about working on a team's project; it was also about discovering technology trends and tools to explore how they could support their needs. For example, how smart contracts could be integrated into an existing process, or how bio-inspired designs could bring breakthrough in product development. Experts were available on site and could be pulled in by the teams to collaborate with them on their projects. All together, over 50 experts from various sectors and industries were present and covered topics such as collective intelligence, blockchain technology, biomimicry, smart investment, design thinking, brand storytelling, and IoT.
Each team benefited from a dedicated innovation coach whose objective was to help the team navigate and customize their experience, recommending specific experts' contributions and facilitating the whole process.
Discover all of the people involved at the Lift:Lab here.

Projects in the spotlight
We ran a workshop on the future of education, tackling challenges about the current education system and explored innovative approaches to build the society of tomorrow for our children.
Lift:Youth welcomed kids aged 11-18 years old to design their future education program. Supervised by coaches and entrepreneurs, the junior teams experienced the first steps of transforming the best ideas into true creative projects: brainstorming, proposal development, live market research, and pitch preparation.
The Lift:Lab also hosted the second edition of the Health Game Jam, an initiative aiming at co-creating and gamifying health therapies for children experiencing respiratory diseases.
What's next for the Lift:Lab?
As you may know, the Lift:Lab was an experiment for Lift, scaling up a format that was initially prototyped in Hong Kong, then tested at Lift16. Our goal is to create the right format to offer the best possible experience and create value for our fellow Lifters!
Since we take nothing for granted and are playful, we have spent the last few weeks talking to many of you to understand your experience, collect your feedback and recommendations in order to improve and build new formats.
If you want to be part of our community and learn about our programs, please contact us here! In the meantime, check out our full photo album to remember the good times!
Stay tuned and follow us on social media, not to miss any new information!

LinkedIn (LIFT Conference): follow our page and join our group to engage with other Lifters!
Facebook (LIFT): like our page and never miss any news!
Twitter (@LIFT Conference): follow us and let's start discussing and sharing!