The Future of Education: What if designing failure resulted in more effective learning?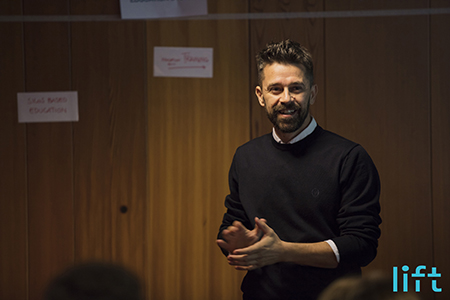 On March 1st 2017, we hosted an interactive workshop about the future of education during our event Lift:Lab. We had the pleasure to welcome participants from various sectors and diverse backgrounds: entrepreneurs, school directors, parents, students, academics, but also professionals of public administration, communication, marketing, and finance. Together, they tackled challenges about the current education system and explored innovative approaches to build the society of tomorrow for our children. The workshop was moderated by Andrea Guida.
We should go from 'learning and applying' to 'designing and creating'.

Prof. Manu Kapur
Manu Kapur, Professor at ETH Zürich, gave a talk about productive failure. He discussed the importance of designing failure as a process of knowledge gain, social participation, and enculturation for students. Kids have to learn to persist through frustration and failure. They learn, not by doing calculus or learning by heart, but by trying to solve problems using their creativity and imagination. Inventing new solutions, working together, playing and tinkering are key mechanisms in the learning process. We have to rethink the role of teachers and the purpose of exams to adapt to productive failure.
During the brainstorming session, the participants had to look to the future: year 2040. Two groups worked on a "black" disastrous scenario for the society where jobs disappeared and unemployment is very high. The two other groups worked on a "white" positive scenario: a society with full employment. For each scenario, participants were asked to design the education system in place. This exercise allowed to reflect upon things to stop and to start in education, the impact of technology on society, and the evolution of economy.
The key outcomes of this session were expressed as follows:
Students must be prepared to work across a spectrum of jobs. The strong impact of technology on society causes job loss because of automation and an increasing use of robots, but new jobs are created every day.
Learning-by-doing and projects should be more central in the education system.
The education system should focus on children's happiness, rather than measuring grades.
We are moving towards (if not already in) a gig economy with an increasing number of slashers and freelancers. However, the future economy is a design economy where we won't apply things, but invent, create, and design everything.
Kids have to learn to interact and to work with robots, and not consider them as enemies that would replace them.
The future education is also an international education with worldwide virtual open classrooms and students coming from every part of the globe.
Be "glocal" : in the society of tomorrow, globalization works hand in hand with the local market and the local populations to provide customized offerings.
Design thinking and entrepreneurship should be introduced in the education system.
We should stop doing exams based on old skills.
This workshop allowed great exchanges and reflexions. We hope to continue the discussion in order to keep raising awareness and to help such an important topic to be at the top of everyone's agenda.
Thanks to all the participants and to the Foundation Gebert Rüf Stiftung!